Sara Schuh, MD
The Ray E. Helfer Society Recognizes Dr. Sara Schuh for Outstanding Teaching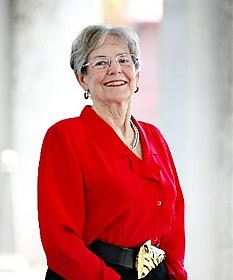 To: Arne H.Graff, MD
Medical Director, Mayo Child and Family Advocacy Program
Chairman, Awards Committee of Ray E. Helfer Society
Re: Nomination of Dr. Sara Schuh for the Helfer Teaching Award To: Dr. Graff and the Helfer Awards Committee
I am writing to nominate Sara Schuh, MD for the Helfer Teaching Award. Sara had devoted most of her career since the early 1970's to the medical evaluation and care for children suspected of being abused, through her work at the Dee Norton Low Country Children's Center in Charleston, SC and as a practicing faculty pediatrician at the Medical University of South Carolina (MUSC) in Charleston, South Carolina. Dr. Schuh was the first pediatrician in South Carolina to develop special skills and practice for the evaluation of abused children and continues in that role today. She devoted the other half of her career to Primary Care Pediatrics, first in New York City, then Atlanta and then at the Medical University of South Carolina since 1970. She is revered and known to have taught a high percentage of pediatricians in their MUSC training programs and to be a thoughtful, interesting and challenging teacher. She exemplifies high standards in practicing and teaching both the science and the art of pediatrics. Dr. Schuh has been active in teaching medical students, both in lectures and in the clinical setting. She was on the Student Evaluation Committee was a number of years. Dr. Schuh keeps up with new developments in Child Abuse Pediatrics and currently gives presentations and skillfully supervises Child Abuse Fellows in out-patient assessments for the last several years at MUSC. She asks appropriate and challenging questions. She questions poorly supported practices and inspires fresh thinking. Sara is very interested in family dynamics and provides appropriate pediatric grounded counseling to children and families coming to the DNLCC. Dr. Schuh's knowledge and experience in General Pediatrics is a platform for her to immediately recognize physical mimics of abuse.
Dr. Schuh has a busy family life with her physician husband of many years, 5 grown children and many grandchildren. She welcomes new Residents and Fellows and staff and encourages their well-being and professional growth. Our Fellows love her. She has been honored over the years by many organizations such as receiving the Woman of the Year Award from the Charleston Federation of Women's Clubs, many times on the list of Best Doctors of America, Who's Who Among Human Services Professionals award several years, Community Service Award for SC from the American Medical Women's Association, Community Service Award from People Against Rape, Sterling's Who's Who and the Walt Ector Community Service Award.
Dr. Schuh has been the Medical Director of the Franklin C. Fetter Family Health Center in Charleston for 3 years, Chief of the Ambulatory Section of the Dept. of Pediatrics at MUSC for 4 years, and she was the Director the Sexual Assault Center (at DNLCC) for 21 years. She has given hundreds of formal presentations on child abuse to various groups and learners. She has had many extramural grants and one intramural grant. She has been on the Charleston Task Force on Sexual Abuse, the Advisory Board of Charleston County Department of Social Services - Child Protective Services, Consultant for child abuse and neglect for South Carolina Department of Social Services, the Low Country Council for Children and Families at Risk, Board of Parents Anonymous of SC, Board member of Exchange Club Center for Prevention of Child Abuse. She has published 8 papers and 10 abstracts.
In summary, Sara Schuh, M.D., is the cornerstone of child abuse pediatrics in the State of South Carolina. She did the work by herself for 30 years, and is the solid foundation that the current South Carolina Children's Advocacy Medical Response System has been built upon. She has mentored hundreds of medical students, pediatric residents, and fellow practicing physicians over her long career. I hope that you consider her nomination for the Helfer Teaching Award favorably.
Sincerely,
Anne Abel, MD
Associate Professor of Pediatrics
Child Abuse Pediatrics Division
Medical University of South Carolina
.